You're Only Seconds Away...
No-Risk Secure Acceptance Form
YES Sharda! please give me instant access to "The Complete 7 Day Potty Training Guide" for just $34.98 $19.97
I understand I'll receive instant access to the "Complete 7 Day Potty Training Guide" ebook and audio program PLUS the 2 bonuses.
I understand that I will receive:

Complete 7 Day Potty Training Guide e-book.

Complete 7 Day Potty Training Guide Audio.

1st FREE bonus Vet Health Tips Interview Audio.
This audio is an interview with a well renown dog Veterinarian and is packed with helpful dog health information.

It includes up to date information on dog health tips, diet tips (including the most dangerous 3 foods to avoid, pregnancy help and advice, emergency care for your dog, a large section on management of dog allergies, care of you dog before and after surgery, all about spaying and neutering, plus much, much more.

2nd FREE bonus 101 Healthy Homemade Dog Recipes e-book.
This popular ebook contains a massive 60 pages consisting of 101 yummy, very healthy, lovingly home prepared and cooked meals for your dog.

Each delicious healthy recipe includes a convenient list of ingredients... and a set of complete step-by-step preparation and cooking instructions... that are simple to follow.

It even contains a very helpful section that shows you how to really simplify your life by so easily cooking a larger quantity of each of the meals that you are preparing for your dog ahead of time and refrigeration/freezing the individual portioned meals for use later.
Sharda's Iron Clad Guarantee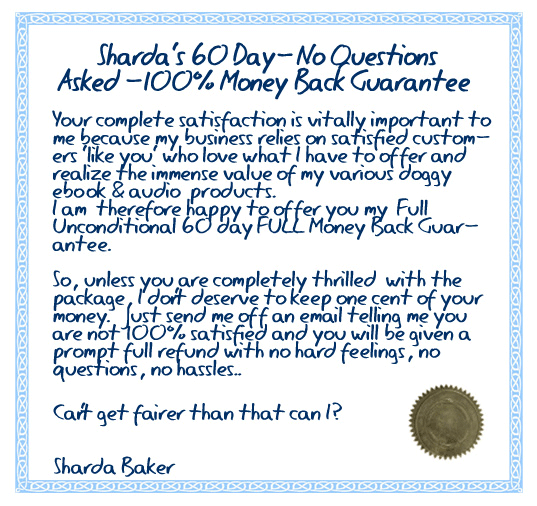 I have read and accept the purchase agreement. Purchase agreement

Warmly,